Dental Team – Derby, KS
Eager to Please & Ready to Serve
Our team members understand that our mission is to take great care of people, not just teeth! That's why you'll enjoy fast and friendly service at each appointment, and the first thing you'll see are smiling faces when you step through our doors. If you have questions, our team has answers, and they are ready to take the stress out of your dental appointments. Keep reading to start getting to know everyone!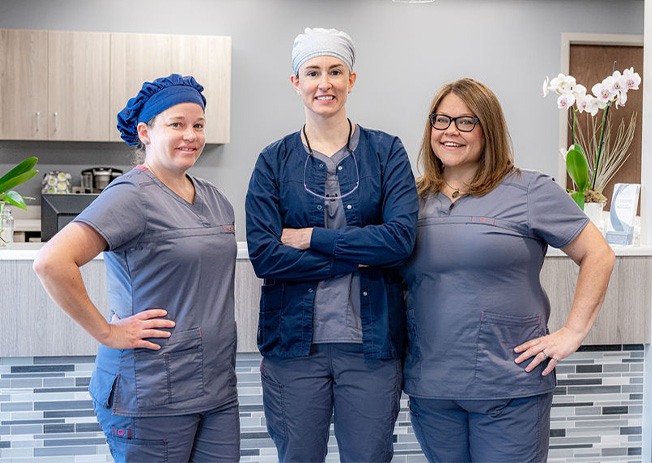 Lacey, Patient Care Coordinator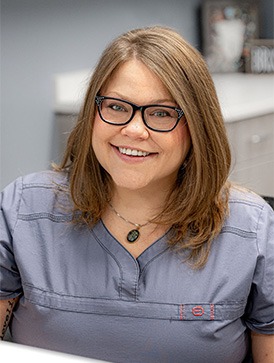 By far, Lacey's favorite part of this job is getting to work so closely with Dr. Clark each day. They both believe in making excellent patient care a top priority! A Wichita native, she completed her education at Wichita State University.
Outside of the dental office, Lacey is married to her best friend and has been blessed with four "bonus" kids, three "bonus" grandkids, and five four-legged "kids." As for hobbies, she enjoys going on walks with the dogs, listening to music, working in the yard, and restoring a 1977 Chevy Nova! She also recently discovered a talent for baking and has had tons of fun making all kinds of delicious sugar cookies and cupcakes.
Brandie, Dental Assistant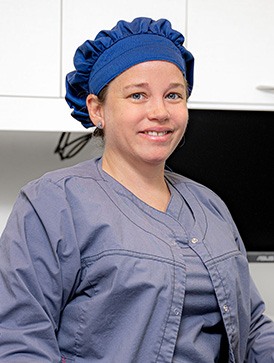 Born in Haysville, KS, Brandie has been honing her skills in dental care for well over a decade. She started her career in pediatric dentistry before moving on to general dentistry. As a dental assistant, she gets to help Dr. Clark provide essential oral health care and educate our patients on how to maintain their beautiful smiles. Her favorite thing about her job is meeting new people and making a positive difference in their lives.
At home, Brandie gets to spend time with her husband and daughter. They enjoy being outdoors, going to the park, playing games, and hanging out with their extended families. When she isn't working, she likes crafts, camping, fishing, swimming, bowling, shopping, cooking, baking, and watching horror movies. She also has an interest in Paranormal Research!
Susi, Dental Assistant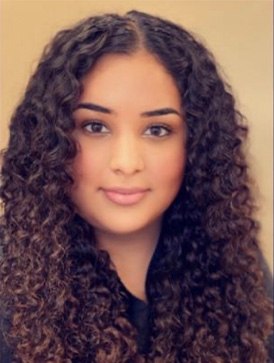 Susi is a relatively new hire, but don't let that fool you – she has plenty of dental experience! Since graduating from WSU Tech's Dental Assistant Program, she's worked in dentistry for over five years. In particular, she's helped a variety of dentists and learned specialized techniques. Of course, her time in the field has also given her a love of helping patients get better smiles.
Born and raised in Mexico, Susi has a strong love for her family. This fact isn't too surprising, though, as she's grown up with three siblings and 11 nieces or nephews! Plus, much of her time is spent with her "fur children" – one cat and three dogs she loves to spoil.
Taryn, Dental Hygienist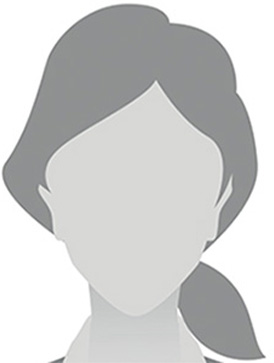 Taryn is a Kansas native! She chose to attend Wichita State University to study dental hygiene, and she's now a proud member of our team. When asked what she loves most about being a dental hygienist, she shared that it's creating relationships with patients and educating them about their oral health along the way.
Taryn loves spending her time outside the practice with her support system: her mom, sister, and niece. She also has various hobbies, including doing crafts, being outdoors, working out, and trying new recipes. Here's something you might not know about her: she was named after a little girl her mom taught in Germany!